Hand Hygiene
Antiseptic and Cleansing Gels
Hands are a very important vector of microbial transmission. Hand hygiene can significantly reduce the risk of cross-transmission of infection in healthcare facilities if properly set up.
For this reason, an antisepsis protocol with precise consecutive actions should be scrupulously observed and applied.
Alcohol-based hand sanitizers (with at least 60% alcohol) are largely used in medical areas but are now also recommended for the general public.
Many situations in a hospital require repeated use of antimicrobial agents (e.g., before invasive procedures, when caring for immuno-compromised patients, critical care areas, intensive care nurseries, etc.). These should be chosen carefully based on their active ingredients and characteristics.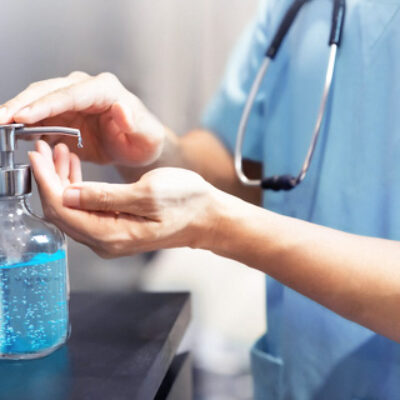 MEDALKAN has developed two alcohol-based antiseptic gels, NOSODERM GEL 70 and NOSODERM GEL 80. Their compositions have been prepared with a particular attention to combine efficiency and protection of the skin. Considering damaged skin is an open door to microorganisms, an effective antiseptic gel should prevent dryness by optimizing the hydration of the skin.
NOSODERM GELS have been dermatologically tested on sensitive skins.
When using a hand sanitizer:
Apply sufficient amount to the palm of one hand
Rub hands together
Spread and rub the product over hands, back hands, fingers, finger spaces and nails until your skin feels dry
Make sure your skin keeps wet for at least 30 seconds otherwise add a small amount
Use enough product to cover all parts of your hands and fingers
NOSODERM GEL 70 is an hydroalcoholic hand cleansing gel with a mild antiseptic action. It contains 70% ethyl alcohol. Its moisturizing composition prevents skin dryness and provides a pleasant feeling of freshness and cleanliness.
NOSODERM GEL 70 has a neutral pH and has been dermatologically tested on sensitive skin.
NOSODERM GEL 80 is an antiseptic hydroalcoholic hand gel with a broad antimicrobial spectrum. It contains 80% ethyl alcohol. Enriched with moisturizing active ingredients, it preserves the skin hydrolipidic film and thus allows repeated use.
NOSODERM GEL 80 has a neutral pH and has been dermatologically tested on sensitive skin.
MEDALKAN – The Next Generation of Medical Disinfectants