March 2023 was a month with a large presence in exhibitions worldwide
Our company was present at
IDS Cologne, Germany from March the 14th. to the 18th. and also at the
Greater Taipei International Dental Exhibition & Convention with our distributors in Taiwan.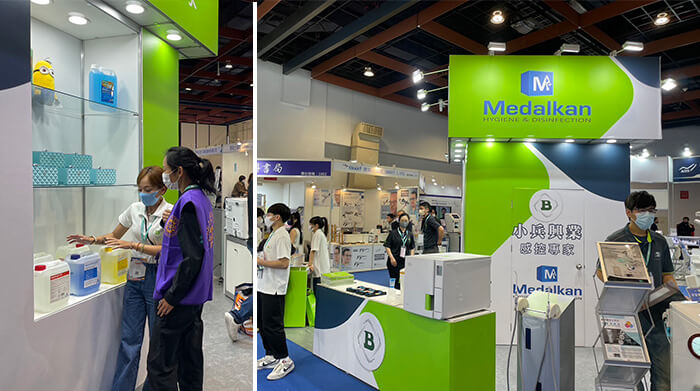 MEDICA 2022 - Dusseldorf, Germany
Thanks to you all, MEDICA 2022 was a great success once more !!
We were very glad to meet our collaborators and future partners in person some of whom have come from so far …
We hope to see you again soon !
CITRALKAN : Our new acidic detergent based on citric acid
We are pleased to present you CITRALKAN, our new neutralizing agent based on citric acid, which complete our range of instrument reprocessing chemicals.
CITRALKAN removes alkaline residues, mineral scale and rust stains while keeping the washer disinfector's chamber clean and shiny. It does not contain any surfactants and prevents corrosion and instrument discoloration.
Last but not least, CITRALKAN can be transported easily at no additional cost as it is not a dangerous good for transport.
MEDICA 2022 - Dusseldorf, Germany
We are glad to announce you that we will be present at Medica Fair Dusseldorf from November the 14th. to the 17th. 2022.
Come and visit us in Hall 11 stand 11C68 and see our new products.
Do not hesitate to contact us for a meeting.
See you there !!
NOSOCID PAA : The disinfection at its highest level
Many of you have asked us and today MEDALKAN is pleased to inform you that NOSOCID PAA, a high level disinfectant based on peracetic acid is finally available.
MEDALKAN now offers you a complete range of enzymatic detergents (NOSOZYM and NOSOZYM 6 PLUS) and high-level disinfectant (NOSOCID PAA) intended for the treatment of endoscopes.
For the manufacture of NOSOCID PAA, MEDALKAN has targeted the most rigorous requirements in order to design a product of very high quality:
– Total antimicrobial activity in just 5 minutes
– Compatibility reinforced by powerful corrosion inhibitors
– Optimized formula for safe use
NOSODERM GEL 80 : Antisepsis for the hospital environment
MEDALKAN has specifically developed NOSODERM GEL 80 for doctors, nurses, caregivers and all those whose profession requires constant hand antisepsis.
Thus, NOSODERM GEL 80 has ultra-rapid antiseptic efficacy certified by independent laboratories.
In addition and because dry or damaged skin is a gateway to microorganisms, MEDALKAN has designed a highly tolerant formula for the skin allowing regular use in complete safety.
NOSODERM GEL 70 : Clean and hydrated skin in all situations
Following the COVID-19 pandemic, hydroalcoholic gel is now part of our daily lives. Easy to use, it often and effectively replaces conventional hand cleaning with soap and water.
MEDALKAN has formulated NOSODERM GEL 70, hydroalcoholic gel for hand cleaning, with particular attention to skin protection.
NOSODERM GEL 70 has been dermatologically tested and suitable for the most sensitive skin. (Sensitization test carried out with an occlusive patch for 48 hours on a panel of 20 volunteers with sensitive skin)
MEDICA 2019 - Dusseldorf, Germany
Thank you to our collaborators and friends from all over the world for visiting us at MEDICA 2019
Exhibition was a great success !!!
We hope to see you again in 2022